SE Labs and AV-TEST Agree: Symantec is Best
Symantec is the only vendor to win Best Endpoint Protection awards from both SE Labs and AV-TEST.
"Symantec adapts to detect and protect against both the latest targeted attacks and widespread threats that affect victims indiscriminately" Simon Edwards, CEO of SE Labs
Customers should also know the protection technology in SES Complete goes beyond what these labs were able to test. Endpoint Threat Defense for Active Directory (TDAD) and Adaptive Protection provide unique protection capabilities that were not tested. Today, no tests exist that can evaluate these features. We continue to value tests that pursue high standards and accurately reflect our product's capabilities. It's about finding real, practical improvements for our products that address our most sophisticated customers' challenges.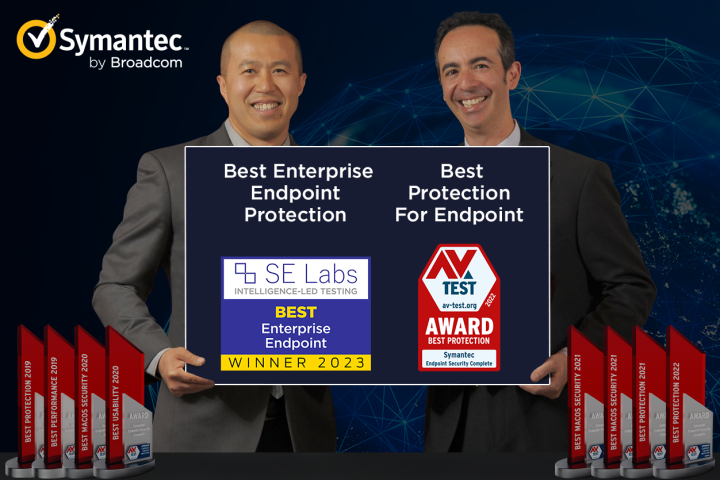 Symantec helped revolutionize security testing in the early 2000s to evolve from static scan tests to behavioral-based tests. Beyond winning table stakes protection tests, we will continue to work with reviewers like SE Labs, MRG Effitas, AV-TEST, and MITRE Engenuity to evolve security testing so tests evaluate all our product features. Current tests use a single product environment. However, every customer environment is different, and our Adaptive technologies utilize those differences to create a custom protection environment.
Between SE Labs and AV-TEST, SES was tested against thousands of zero-day attacks and prevalent threats throughout 2022, and it beat out all of the other competitors in blocking these attacks to win these awards.
"Symantec's product demonstrated continuously for over 12 months that it offers the highest level of protection in the industry." Andreas Marx, CEO of AV-TEST
These tests show how Symantec stands apart from our competitors thanks to our strong, cross-platform protection stack and our innovative technologies. Our continued involvement in these types of tests show our willingness to publicly benchmark ourselves. They provide us one of many ways we benchmark our ability to deliver outstanding protection. It's great to be recognized by the best of the industry. We will continue to strive for top recognitions as a part of our continuous and relentless focus on our customers.
Want to comment on this post?
We encourage you to share your thoughts on your favorite social platform.