New Regulatory Requirements Will Help Shape Cyber Security for Finance
Broadcom Software can help you navigate the new landscape
When it comes to avoiding ransomware attacks, no sector remains safe anymore – and particularly, the financial services sector, a favorite target for cyber criminals.
Indeed, financial institutions were disproportionately affected by ransomware in 2021, and the early indications for the new year point to more of the same for 2022.
Policy makers around the world have been recognizing this heightened risk which has been further amplified by the recent geopolitical tensions. The European Union (EU) has pulled together a proposal for a unified framework to regulate risk management for financial institutions. Known as the Digital Operational Resilience Act (DORA), this marks a significant milestone for the 27 member states in the Union. The proposal that is in an advanced stage of negotiation brings a common approach to cyber security and governance for financial service providers and their information and communication technology (ICT) supply chain across all the countries in the European Union (EU).
DORA's Impact
DORA, which is expected to be adopted soon, directly impacts most providers of financial services, including banks, insurance companies, brokerage firms, crypto-currency exchanges, and related fintech businesses. Those institutions will be required to comply with DORA's standards governing contractual terms, supply chain management, governance minimum levels of business resilience and cyber security once it enters into force. Failing that, they face substantial financial and other penalties
Perhaps the easiest way to understand the impact that DORA is going to have on global financial businesses and their supply chain is to consider the impact the EU's standard for data privacy and data governance, the General Data Protection Regulation, had.
The GDPR similarly replaced a variety of laws passed by the individual nations of the EU with a single regulatory standard with real enforcement teeth for non-compliance. The GDPR made it quite onerous and increasingly risky to be out of compliance.
DORA is expected to have a similar impact on how large financial institutions do business, regulating different aspects of their processes through a single instrument and providing incentives to improve their business resilience. The proposed law's regulatory reach will extend to supply chain vendors and subcontractors deemed "critical," which could include everything from small-to-medium sized businesses to large-scale cloud infrastructure service providers.
DORA will create a uniform set of requirements for the supply chain that will range from incident notification all the way to contractual terms, customer exit strategies and KPI monitoring. Given the size and importance of the EU financial markets it is likely that we will see these requirements adopted by financial institutions and regulators around the world making DORA a standard that has defacto a much broader reach than just Europe.
How regulatory requirements interact
DORA's regimen of rules on cyber security is well aligned to a set of advisory recommendations, the Cyber Security Framework (CSF), published by the USA's National Institute of Standards and Technology. But while CSF guidelines are purely advisory, DORA will mandate compliance and require organizations to demonstrate that certain conditions are being met by empowering financial services to audit their supply chain and regulators to oversee both the financial institutions and certain services providers that will be designated to be critical.
The current European Banking Authority Guidelines (EBAG), a predecessor to DORA, already gives finance regulators some of this oversight in the form of guidance. DORA takes things further with additional components that EBAG does not have. And while EBAG is regulatory guidance that one can diverge from at its own risk, DORA will have the force of the law: failure to meet its requirements will exact real penalties
Once adopted the DORA mandates will create additional obligations for financial institutions and other enterprises to accelerate upgrades to their cyber security capabilities as they'll need to provide demonstrable evidence of threat penetration testing, cyber security incident detection and response, disaster readiness, and performance measurement.
DORA will create a uniform set of requirements for the supply chain that will range from incident notification all the way to contractual terms, customer exit strategies and KPI monitoring.
In Europe, you sometimes hear complaints about GDPR. But I know that if there's a data breach, there will be a common basic understanding of the actions that need to be taken and the notifications that need to happen in a given timeline usually up to 72 hours when it comes to the privacy regulator. This is the result of the GDPR being one, common, data breach standard. If there's a data breach somewhere in the US, it is possible that multiple breach standards apply resulting to different notification requirements. When having to manage corporate risk simplicity is key. Often a single, clear regulatory standard applicable across the business in multiple jurisdictions makes it easier to marshal resources, focus teams, drive efficiencies and get executive attention.
Despite some points of contention, the EU is moving forward with creating a regulatory blueprint on cyber security by addressing critical infrastructure, financial services, IoT, standardization, privacy and cyber crime. It is an effort to address certain challenges but also a way to export a governance model.
Cyber security threats are real. The recent pandemic experiences and current geopolitical challenges demonstrate how dependent we have become on technology. We should not be surprised this attracts more regulatory attention for both sides of the Atlantic. After all, if something is valuable it is going to be regulated.
Contact us here to learn more about how Broadcom Software can modernize, optimize and protect your business.
Symantec Enterprise Blogs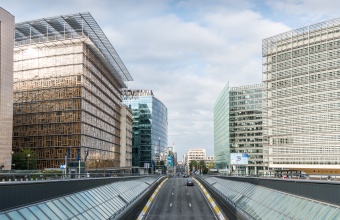 Fireside Chat with Ilias Chantzos, Global Privacy Officer of Broadcom
Symantec Enterprise Blogs
Want to comment on this post?
We encourage you to share your thoughts on your favorite social platform.