Arrow Electronics picks up two Global Broadcom Awards
Broadcom Partner Momentum Summit 2023
It feels like the Arrow European Symantec Team is coming back to earth after an amazing week at the Broadcom Partner Momentum Summit in Barcelona, where we were honoured to receive two Broadcom Partner awards.
The Summit, held during the second week of February, brought together businesses from across the Broadcom channel ecosystem, to hear about its channel strategy and vision. We were joined by over 500 industry peers, and we all gained valuable insights into the latest market trends, innovative channel programmes, and learned of new skills and tools required to thrive in a hybrid-cloud economy.
As Broadcom's strategic and exclusive European Cybersecurity Aggregator partner, Arrow was excited to meet with our many partners and share with them more about the programs and support we can offer to develop their Symantec businesses. We had been anticipating the occasion for some time and when it finally arrived the event enabled us to launch, together with Broadcom, a new chapter in driving the growth of Broadcom's commercial cybersecurity segment in the European market. It was great to see so many familiar faces and hear all the perspectives coming from the industry, our partners and Broadcom experts. We emerged truly energised for the fiscal year ahead!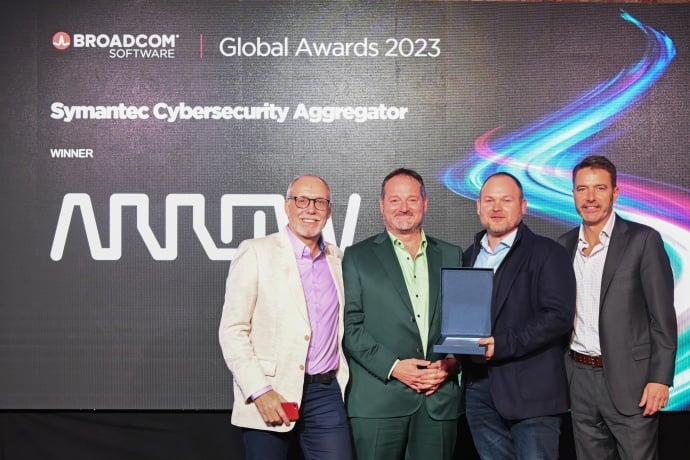 There were many highlights but Arrow picking up two coveted awards in highly prized categories topped the list. We were honoured to collect a Broadcom Global Award for 'Cybersecurity Aggregator of the Year'. This award recognised the developments we have made, launching a new commercial partner program along with specific initiatives to support end-user sales and marketing. It also acknowledges our focus towards helping partners retain customers, win new business and deliver superior customer outcomes.
This was aptly summarised by Peter Cooper, Director Partners EMEA at Broadcom who gave these kind words during the Gala Dinner Awards Ceremony:
"We are delighted to present our first ever Cybersecurity Aggregator of the Year, Global Award to Arrow. They are truly deserving of this award having achieved a tremendous transformation in the development of our European Commercial cybersecurity customer segment. Broadcom is known for pioneering innovative and disruptive methods of adding value for partners and customers. Arrow has completely embraced our ethos with its 'Beyond Distribution' go-to-market model which has redefined the role of distributor, with benefits for everyone in the sales chain."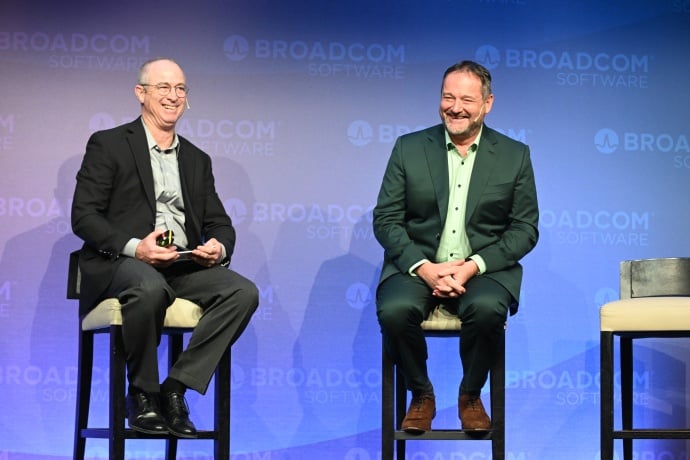 The second Broadcom Global Award we were presented with was 'Technical Support Provider of the Year' and it recognised the significant investment we have made delivering outstanding support for the Symantec Enterprise cybersecurity portfolio. In 2022, we greatly increased our technical knowledge and capabilities to support our channel partners and their customers day-to-day, providing them with a helping hand when selling Broadcom solutions.
Today, Arrow plays a pivotal role in helping our resellers deliver higher levels of cybersecurity and innovation to their end customers. Peter Cooper commented:
"We are very proud of the achievements Arrow has made in its technical support area. Arrow has greatly increased its expertise in Broadcom cybersecurity solutions to a level where partners and their customers feel 100% confident they can rely on excellent protection and day-to-day technical support."
Both awards reflect the dedication and hard work that our Arrow Symantec Teams have shown over the last year, and with them comes the recognition that we have built a strong working collaboration with Broadcom. I am honoured and grateful that Arrow was chosen from the many worthy nominations in these categories. I also pass on my congratulations to all the winners at the event.
Accelerating Success. Together.
Aside from the awards, the Momentum Summit was a resounding success. Representatives from over 100 organisations warmly applauded the multiple sessions, which included a keynote panel discussion slot with Eric Nowak, President of Arrow Enterprise Computing Solutions in EMEA. In his address he underlined the transformational impact Broadcom and Arrow together are having on the ways partners can add value, every day. He explained how Arrow has been able to create an innovative European channel model that provides all players with greater flexibility, autonomy and efficiency, and ultimately ensures business success and happy customers.
Broadcom has a proven history of successful innovation, both in its technology and how that technology is delivered to market. Broadcom launching its Advantage Partner Program and the Expert Advantage Partner Program for professional services, and our appointment as exclusive European Cybersecurity Aggregator Distributor, are recent chapters in that success story. Partners attending the Momentum Summit had already seen how the Arrow and Broadcom collaboration, characterised by speed and agility, has enabled them to grow their license sales, add service models and better support service delivery for Broadcom's cybersecurity products.
My team were also thrilled to present Threatscape Ireland with our own coveted award for 'Arrow European Commercial Partner of the Year'. Colin Reid, Commerical Director at Threatscape had this to say:
"Threatscape is honoured to receive this significant award for closing new business and renewing established relationships as a key trusted advisor to our customers. This recognition would not have been possible without our organisation's deep and broad Symantec capabilities, our customer-focused services expertise and the vision we share with Arrow and Broadcom for the success of our Symantec customers helping them navigate and execute on their most strategic priorities."
The Broadcom Partner Summit motto, 'Accelerating Success Together', reflects the success of collaboration. Together we help our resellers drive and achieve greater customer satisfaction. It's a Win-Win-Win relationship.
Want to comment on this post?
We encourage you to share your thoughts on your favorite social platform.