Broadcom named to Newsweek's "America's Most Responsible Companies" list for third year in a row
New ranking highlights corporate excellence in areas related to environmental, social and corporate governance (ESG)
Broadcom has been named to Newsweek's list of "America's Most Responsible Companies 2023." The list recognizes the 500 most-responsible U.S. public companies across multiple industries in areas related to environmental, social and corporate governance (ESG). It is the third year in a row Broadcom has been named to the list, having first debuted in 2021. Broadcom ranks 21st on the list of 500 for 2023.
"This recognition from Newsweek honors the important work our teams do every day in support of ESG, reinforcing our commitment to social responsibility," said Hock Tan, Broadcom President and CEO. "I'm proud of our teams and of Broadcom, and am honored to be part of the greater community of socially focused companies."
Companies were selected based on publicly available information, including CSR Reports, Sustainability Reports, and a survey measuring citizen perceptions of corporate behaviors. The award is presented by Newsweek and Statista Inc., a global statistics portal and industry ranking provider. The list was announced on December 7th, 2022, and can be viewed on Newsweek's website.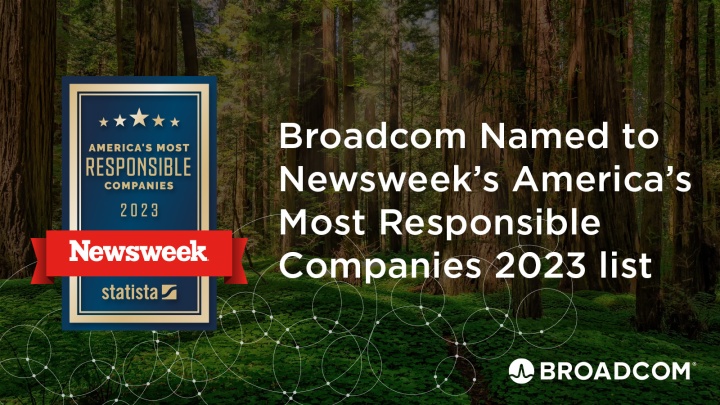 Want to comment on this post?
We encourage you to share your thoughts on your favorite social platform.