Driving IT Modernization Through Strong R&D Investment
Technology is a key driver for future growth
When Broadcom acquired the enterprise division of cybersecurity company Symantec in November 2019, who had any inkling that the world was about to dramatically change?
After the Covid health crisis erupted in March 2020, businesses worldwide faced a changed world as offices suddenly emptied out and employees logged on from home.
Broadcom's Symantec Enterprise security business had around 750,000 cloud proxy users before Covid hit. Once it became a pandemic, our number of active cloud proxy users soared to 4 million.
The only way to keep pace was to press ahead with our migration to the cloud. Long before the pandemic, we took the strategic decision to embrace the cloud. We viewed the cloud as a way to improve Broadcom's resiliency, drive down IT complexity and improve our time-to-delivery cycle for releasing innovations and new capabilities.
At first glance that might sound like a tall order — especially during a once-in-a-generation pandemic. But Broadcom's commitment to IT modernization through strong R&D investment gave us a leg up.
Following our earlier acquisitions of Symantec — and before that Computer Associates — we had begun to incorporate cloud-based and software-as-a-service business models. Now it was just a matter of accelerating the existing plans that were already in motion.
Nuts and bolts
It was a major endeavor as we migrated colocation data centers to the cloud to scale with our customers and provide a better experience for them (reduced latency). But it was worth the investment in time and resources. The migration allowed us to standardize on a common cloud platform, enabling faster delivery of product features while keeping products up to date and free of technical debt. Importantly, it helped us keep the platform secure to protect our customers' workload and data.
Prior to migrating, Broadcom operated more than 50 data centers globally. The plan was to replace all of these data centers in 6 months — which we did. It was crucial that we got this right because the workloads were time-sensitive and customer-sensitive, and any glitch could have had a huge impact on customers. Our migration to the cloud was accomplished without any noticeable impact to our customers.
Since our migration to the cloud, Broadcom has realized a host of operational efficiencies. For instance, we've eliminated 165 software test labs and saved 50% on costs by hosting most of the testing infrastructure in the cloud instead of relying on workstations in dedicated physical spaces.
Results to date
Our cloud modernization drive has produced a range of other benefits like faster development and delivery of products, improved compliance and higher levels of security.
Adopting Google Cloud as a uniform, scalable, cloud-agnostic platform for product development, we now deliver rapid elasticity when catering to increased spikes in requests for products that can reach up to 1 million requests per second — an immediate benefit to our customers.
From an IT process and operations perspective, we've centralized SaaS operations across all of Broadcom's five software divisions into one team. We also used the cloud architecture and cloud services to modernize our SaaS applications as well as the development and testing of our on-prem software. That's liberated our engineers to focus on what they do best — not operations but innovation.
The upshot? Our cloud migration significantly improved the uptime for all of Broadcom's SaaS applications, enabling us to meet committed uptime SLAs to customers. It's also reduced the number of alerts and tickets and helped to optimize cloud operations. And consider this: During Covid, it helped to expand one of our products from 750 monthly active users to 4 million! Meanwhile, all this has freed the R&D team to innovate incrementally and continuously without any friction.
Since our migration to the cloud, Broadcom has realized a host of operational efficiencies.
Most importantly, a modernized technology stack has helped Broadcom quickly adapt and respond to the market, economic and customer demands.
Our investment in modernizing the company's infrastructure has also paid unexpected dividends when it comes to upskilling and talent retention. The ability to scale cloud resources up or down as needed allows employees to better manage resources, and that works to their personal benefit as team bonuses are based on how well employees contain costs. We've since observed increased employee satisfaction across all areas of work at Broadcom due to the myriad technologies on the cloud platform we use. That creates a positive feedback loop in which employees not only feel good about modernizing their skills but are more satisfied with their jobs. In an exceptionally tight job market, that's a major help retaining coveted talent.
Technology is a key driver for future growth, but many companies aren't doing enough to keep up with digital transformation, particularly when it comes to the cloud. At Broadcom, we understood quite some time ago that the more complex your IT architecture is with different platforms or silos, the more risk you introduce.
That's why modernizing our IT architecture around the cloud offered the best guarantee to reduce IT complexity and therefore reduce risk.
And it's working. Every day.
Learn more
You can learn more about IT modernization by listening to a fireside chat with Andy Nallappan and Lee Moore of Google.
Symantec Enterprise Blogs
Symantec Enterprise Blogs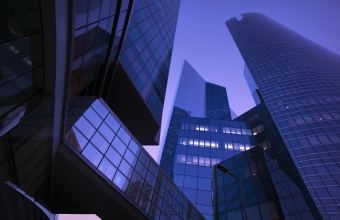 Partnering with Google Cloud for continuous innovation
Want to comment on this post?
We encourage you to share your thoughts on your favorite social platform.