Symantec Security Solutions Get the Nod from Radicati
Paving the way for the future
Symantec's vision for a holistic approach to enterprise security got yet another nod of approval with The Radicati Group being the latest market research firm to call out its Integrated Cyber Defense (ICD) portfolio as leading in two top categories: Advanced Persistent Threat (APT) Protection and Corporate Web Security.
The Radicati Market Quadrant 2020 report gave the Symantec portfolio particularly high marks for completeness of solution, designating the portfolio as a top player in both the APT Protection and Corporate Web Security categories. According to the Radicati scale, top players shape their markets and lead with product lines offering breadth and depth of functionality along with a solid vision for the future.
Symantec, now part of Broadcom, also has a leg up given the combined company's annual $4.7 billion commitment to research and development, paving the way for significant investment in product enhancements.
In the categories where Symantec took top honors, its enterprise security portfolio demonstrated a breadth of integrated capabilities buttressed by the quality and quantity of its Global Threat Intelligence. The result is a powerful combination that keeps a fully-featured ICD platform perennially up-to-date and well positioned to remediate risk in an ever-changing and increasingly complex threat landscape.
Symantec, now part of Broadcom, also has a leg up given the combined company's annual $4.7 billion commitment to research and development, paving the way for significant investment in product enhancements. In addition, acquisitions like the Computer Associates deal have expanded Symantec's ICD portfolio with leading identity management functionality, which helps to fortify its play in Corporate Web Security solutions.
Corporate Web Security
Radicati defines Corporate Web Security as any software, appliance, or cloud-based service that protects corporate users and networks from Web-based malware, helps control employee behavior on the Internet, and prevents data loss. There is a host of criteria Radicati employs to rank the players, including deployment options, malware controls, sandboxing and URL filtering, Web application controls, directory integration, data loss prevention, mobile device protection, and social networking and bandwidth controls. Cloud Access Security Brokers (CASBs), threat intelligence networks, and reporting and administrative functionality were other noted features used to evaluate the field.
When it comes to meeting requirements for Corporate Web Security, Radicati considered a variety of products as part of Symantec's ICD foundation. Symantec's Web Security Service (WSS), which provides options for deployment in the cloud or as part of a hybrid solution, was noted for providing a secure Web browsing experience for users, powered by the Global Intelligence Network along with comprehensive malware inspection techniques. The ability for WSS to be extended with integrated DLP, Web isolation, and mobile device security was also viewed as a plus as was the firm's malware analysis (sandboxing) service.
Symantec ProxySG, also available in different deployment configurations, was also flagged as a standout on-premises secure web gateway solution for aiding in analysis and blocking of critical threats. The integrated nature of the ICD portfolio means these appliances can be complemented with Symantec Intelligence Services for blocking malware and filtering out suspicious and compromised URLs; Web Isolation to isolate potentially malicious threats away from the browser for a safe experience; and DLP for creating policies for analyzing and flagging content along with sources and destination. Radicati says the Symantec Global Intelligence Network completes the picture, providing insights on traffic patterns, behavior, server and site DNA as well as content and reputational analysis gathered from the entire Symantec user community.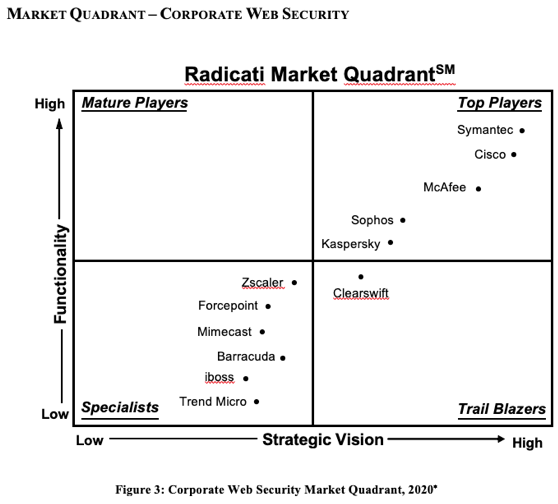 APT Protection
Symantec was also cited as a top player in Radicati's APT Protection Market Quadrant report, defined as a set of integrated solutions that detect, prevent, and potentially remediate zero-day threats and persistent malicious attacks. Once again, Symantec's breadth of functionality earned accolades, with Radicati specifically citing an integrated portfolio--available as on-premises, cloud, or hybrid options--that defends against threats across all vectors, including endpoint, network, web, email, mobile, and cloud applications.
The Symantec ICD portfolio was also commended for bringing an array of technologies to bear to deliver multi-layered protection, including heuristics scanning, file and URL reputation and behavioral analysis, dynamic code analysis, machine learning, exploit prevention, web isolation, mobile protection, CASB, and application control, among others. Symantec's DLP solution, which integrates across endpoints, gateways, and cloud applications, further helps prevent data leaks while facilitating in regulatory compliance.
Symantec's Identify and Access Management and Privileged Access Management (added through CA acquisition) was also mentioned in the Market Quadrant report as a way for customers to easily gain the benefits of integrated identify protection and management. Dedicated mobile device protection and analysis of mobile device traffic was viewed as another upside to Symantec APT Protection given that so many users remain at risk when they are working off the corporate network.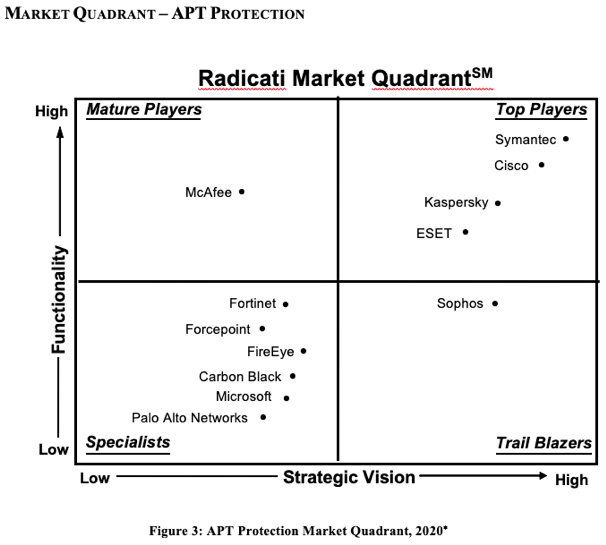 Experts like Radicati agree that an integrated approach is the best defense for combating the on-going complexities of enterprise cyber security. See below to download the full reports.
Symantec Enterprise Blogs
Webinar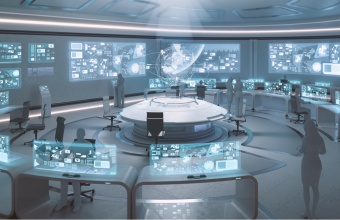 Symantec | Broadcom: Innovation and Strategy for Your Success
Register for our upcoming webinar series hosted by Art Gilliland, Senior VP and GM of the Symantec Enterprise Division and members of his leadership team for updates on Symantec's vision, strategy, and customer-driven innovations. Get answers to commonly asked questions since Symantec was acquired by Broadcom.
Click Here to Register Now
Symantec Enterprise Blogs
You might also enjoy
Want to comment on this post?
We encourage you to share your thoughts on your favorite social platform.