Symantec Endpoint Security: Experience Matters
Successfully protecting endpoints for 20 years
When it comes to endpoint security, Symantec, a division of Broadcom, takes pride in delivering top notch products and services to customers. We believe in the strength of our offerings. And we are very proud that Gartner recently recognized us in the 2021 Gartner® Solution Scorecard for Broadcom (Symantec) Endpoint Security[1].
In this report, we meet 97% of Gartner's required criteria for Endpoint Protection Platforms. Those measures include features such as centralized management and reporting, endpoint protection requirements and attack surface reduction.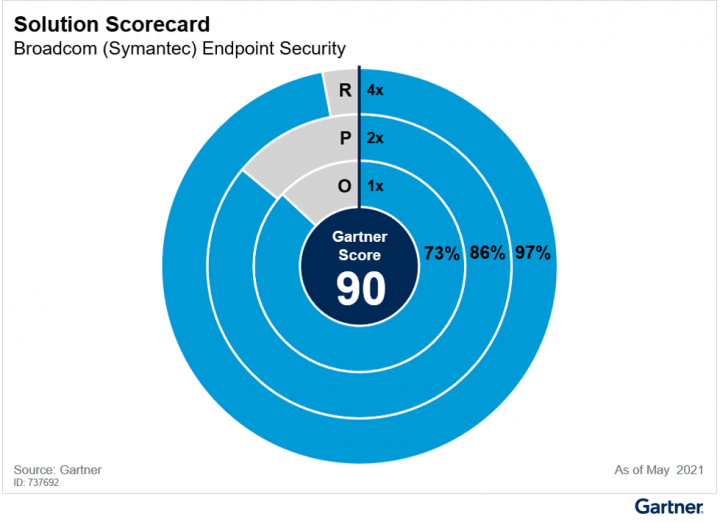 Figure 1 shows that Symantec Endpoint Security has an overall solution score of 90 out of 100. It also shows that SES meets 97% of Gartner's required criteria, 86% of preferred criteria and 73% of Optional criteria. Note: This graphic was published by Gartner, Inc. as part of a larger research document and should be evaluated in the context of the entire document. The Gartner document is available from Broadcom here.
Symantec has been successfully protecting endpoints for more than 20 years. Having the biggest threat intelligence global footprint, we've spent over two decades collecting more data about threats on the Internet and behind URLs than anyone else. And because we are experienced at applying advanced analytics and machine learning, as well as assigning risk scores and deploying our own threat experts to review and interpret what we see, we can resolve 97% of content and risk assessment questions from our database, without having to reach out to other sources.
But, we are not stopping there. As the threat landscape makes major shifts, we continue our pace of innovation to help our customers stay on top of every development inside and outside of their environments.
Recently, we launched our Adaptive Protection feature. It evolved through organic innovation and is powered by Symantec's threat intelligence. It works by reducing the number of possible avenues that attackers can exploit and cuts down on the ability to abuse trusted applications running on corporate endpoints. Market intelligence and research firm, IDC, used its Marketshare report to spotlight Symantec's Adaptive Protection, noting it is designed to be used immediately and doesn't cause any negative impact to a company's business processes and legitimate applications.
Symantec has been successfully protecting endpoints for more than 20 years.
Additionally, with the launch of the latest Symantec endpoint protection release (called 14.3 RU1) supporting our Symantec Endpoint products, our innovations extend to the infrastructure level and provide better protection against the all-too-common web-based attacks that happen both in the organization and on malicious sites. The enhancements also enable better protection and prevention of targeted attacks that utilize living-off-the-land techniques, as well as ransomware. With SEP 14.3 RU1, we enhanced our parsing technology to prevent threats from utilizing common desktop files to deliver attacks; we built improved heuristic capabilities to prevent use of common file types for living-off-the-land attacks; and we enhanced our behavior detections for ransomware, while optimizing scoring heuristic protection for packed malware.
These changes to our underlying Endpoint Security platform strengthen what undergirds our highly recognized, highly rewarded Endpoint Security solution. Our flagship products protect all traditional and mobile endpoint devices and use artificial intelligence to optimize security decisions. Our unified cloud-based management system simplifies protecting, detecting and responding to all the advanced threats targeting your endpoints.
Numerous third-party tests demonstrate that Symantec Endpoint Security (SES) stacks up well with, and usually surpasses by far, the performance and capabilities of our rivals, including:
We also made significant strides in the improvement of our support and services. On the support side, we put in place a best in class customer support standard and strengthened our team of support personnel, making sure we have a strong bench of engineers with extensive product knowledge and cloud-based technology understanding. In another step, we consolidated what were two support organizations into one and now provide a globally consistent support experience. With the move to a single support organization, we have been able to focus on a higher level of customer experience with the same set of standards for all customers.
We recently launched our Expert Advantage Partner Program, which debuted in May of this year. It is a services-oriented partner program to support our customers' usage of our enterprise solutions during the full lifecycle of their experience. Within the new structure, customers who work directly with Symantec or with partners have a single process for tapping into Broadcom-certified organizations for extended support services, intensive product education and consulting expertise.
Symantec has always valued the trust and support of our customers. We believe we have the best endpoint protection products and services around. But, we will never stop working to make what we provide even better. And customers can believe that we will never stop working to be the best solution for their security needs.
Learn more about the Gartner report here.
[1] Gartner, Solution Scorecard for Broadcom (Symantec) Endpoint Security, 21 May 2021, Jon Amato, Sushil Aryal
Gartner does not endorse any vendor, product or service depicted in its research publications, and does not advise technology users to select only those vendors with the highest ratings or other designation. Gartner research publications consist of the opinions of Gartner's research organization and should not be construed as statements of fact. Gartner disclaims all warranties, expressed or implied, with respect to this research, including any warranties of merchantability or fitness for a particular purpose.
GARTNER is a registered trademark and service mark of Gartner, Inc. and/or its affiliates in the U.S. and internationally and is used herein with permission. All rights reserved.
Symantec Enterprise Blogs
White Paper
Symantec Enterprise Blogs
You might also enjoy
Finding breaches is good but preventing them is critical
Symantec Enterprise Blogs
You might also enjoy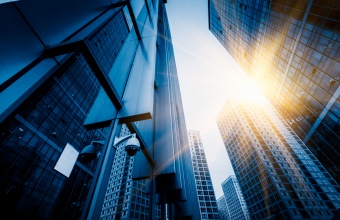 Security automatically customized to your endpoints with SES Complete
Want to comment on this post?
We encourage you to share your thoughts on your favorite social platform.