Security Innovations That Matter Most
Mission-critical threat prevention and data protection innovations delivered today
Whether your security team is working on cloud migration, deploying Generative AI, enabling remote work, or conforming to the latest regulation, you cannot lose focus on the two most critical components of your security posture: Threat Prevention and Data Protection. Threat Prevention is a cornerstone of any large organization's risk management strategy, and Data Protection is foundational for data breach mitigation. Both Threat Prevention and Data Protection are key to demonstrating compliance with global and regional regulations for data privacy and security. Moreover, the solutions you choose must continually evolve, extending innovative approaches that are always one step ahead of the next threat.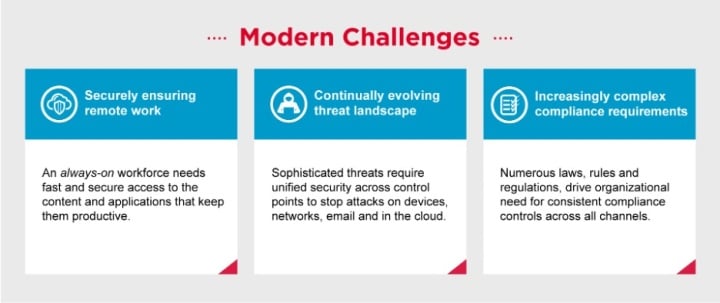 For large and complex organizations Threat Prevention and Data Protection must extend everywhere data resides. A modern approach to both enables organizations to:
Intelligently reduce an organization's attack surface with little or no impact on the productivity of users or business processing
Enable remote work on managed and unmanaged devices
Apply uniform security across endpoint, email, network traffic, and cloud applications
Simplify compliance by meeting industry standards, regulations, and laws
Symantec Enterprise Cloud delivers advanced threat protection and sensitive data detection across endpoint, email, web traffic, and cloud applications. This allows customers to discover and block targeted attacks and data breaches that would otherwise go undetected.
Our customer-focused innovations include:
Generative AI Protection provides guardrails for users while enabling a productive and lower-risk work environment
ZTNA Data Protection ensures DLP policies are applied against private resources and corporate assets
Adaptive Protection that significantly reduces the attack surface employed by living-off-the-land attack methods
Threat Hunter expert research and analytics, enriched with global intelligence to stop unfolding attacks
And many more…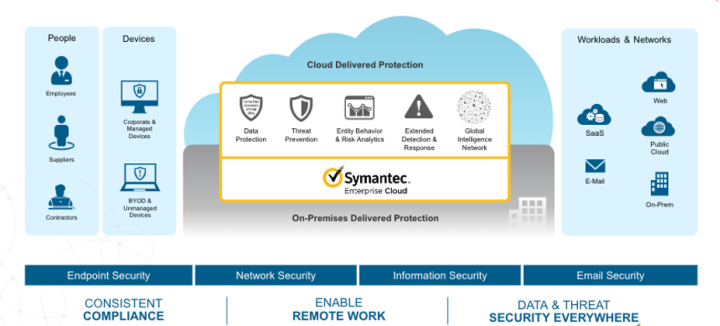 Symantec Enterprise Cloud is a Threat Prevention and Data Protection solution that uniquely addresses current and future needs. How do we do it? That's where things get interesting. To learn more about how our innovations are addressing the challenges that matter to you, download our white paper.
Symantec Enterprise Blogs
Symantec Enterprise Blogs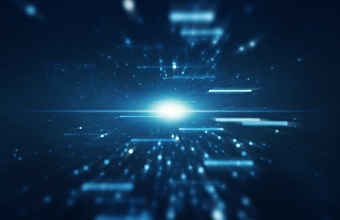 How reducing Symantec DLP Agent's footprint has been a labor of love
Want to comment on this post?
We encourage you to share your thoughts on your favorite social platform.