Introducing Symantec Web Protection
A Secure Web Gateway that follows you home
Experts agree that the requirements of a secure workforce have changed. While not a surprise, it does signal the need to evaluate your security posture to ensure you are prepared for success moving forward. Some studies indicate that a much larger number of employees are now likely to work remotely at least some of the time post-pandemic and that CFOs now plan to shift some employees to working remotely on a permanent basis.
These shifts and others we have seen in this year like no other, are great reasons to evaluate which tools you will need to protect your workforce and your business. The introduction of Symantec Web Protection comes at the perfect time for the Enterprise, allowing a flexible deployment with a uniform experience.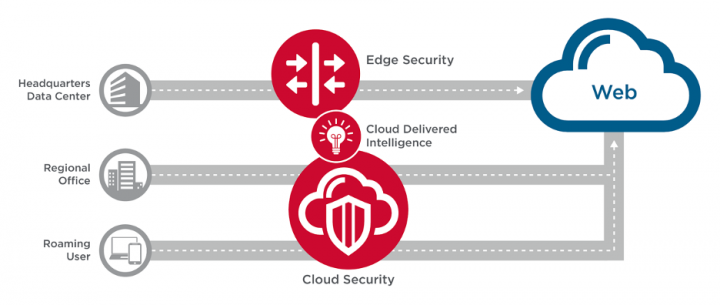 The new Symantec Web Protection enables customers to benefit from a leading Secure Web Gateway (SWG) foundation with entitlement to deploy on-premises, in the cloud or a hybrid consumption. Customers are offered a single, straightforward Per User, Per Year price along with many complementary features and services that until now would have otherwise incurred their own separate and incremental charges.
Symantec Web Protection gives organizations advanced cloud-delivered (SaaS model) Secure Web Gateway licenses and leading on-premises SWG software licenses – both of which can operate seamlessly together with a centralized management, reporting and policy control interface.
What's included:
SWG Software Subscription: (On-prem software, private cloud and cloud-native): Symantec SWG software extends the security capabilities of Edge Proxies to allow businesses for better web security and enforcement of corporate and regulatory compliance using virtual infrastructure on a common platform, reducing costs and IT resource requirements. Every user is also entitled to Web Security Service (WSS) providing the same proactive web protection capabilities delivered by the market's leading on-premises Secure Web Gateway, Symantec ProxySG, but delivered as a resilient and performant cloud security service.
Intelligence Services- Advanced: Real-time web content protection, security categorization and web application control. The web filtering service automatically filters and categorizes billions of URLs into over 80 predefined categories, including 12 security categories that can be easily managed by IT administrators. SWG users get the most accurate and granular web application control policy engine for web and cloud access protection.
High Risk Isolation: Administrators can set policies to isolate websites that are unknown or assessed a Risk Level 5 and above (1-10 scale). High Risk Isolation (HRI) then executes the web content remotely and sends only safe rendering information to users' browsers. Administrators can set sites as read-only for added protection. HRI is available with cloud deployments, and on-premises software SGOS 7.3.1 and higher.
Deep File Inspection: File-based malware detection and emulation is integrated with Symantec Proxy, ASG, WSS, Endpoint Protection, ATP Platform, Secure Message Gateway, CASB, Email Security Service, & WAF.
Centralized Management and Reporting: Our centralized management and reporting capabilities for SWG infrastructure to enhance web security, mitigate cloud access risks and reduce operational costs. Users can host logs in the cloud, providing the visibility of all user traffic from any location with longer standard reporting and retention periods. Role-based access is available from any browser.
What About SASE?
Many of our customers indicate that their company wants to adopt a SASE framework, but don't know where to begin and need to do it at a pace that's right for them. Getting your traffic to the cloud is the critical first step for SASE adoption and a Secure Web Gateway is your foundation. Symantec Web Protection gives you both.
Isn't Moving to the Cloud Expensive?
Another area that comes up for Enterprise businesses is that they need to deploy a Cloud SWG for remote workers, but expect they will always need an on-premises solution in the future. They just don't have the people or financial resources to manage two network and security stacks. Symantec Web Protection gives customers the full set of on-premises SWG capabilities they enjoy today and also includes Cloud SWG (Web Security Service) licenses for all users at no additional cost. The best of both worlds.
Can I Have Flexibility?
The other concern we hear from customers is they know they need to invest in an on-premises SWG infrastructure but they know it will evolve over the next few years and flexibility is important. They need a solution that can adjust with company needs and won't require a new budget or contracts if they need to modify their approach. With Symantec Web Protection, you can continue to invest in your trusted on-premises SWG but give others in your organization peace-of-mind knowing that your decision has protections to "future-proof" your investment if there is concern. As your needs adapt, your investment can too.
Requirements of a secure workforce have changed. Symantec Web Protection gives you the technology, flexibility and confidence to change too – on your own terms.
Symantec Enterprise Blogs
Symantec Enterprise Blogs
Symantec Enterprise Blogs
What you need to know to keep your environment secure
Symantec Enterprise Blogs
Want to comment on this post?
We encourage you to share your thoughts on your favorite social platform.