Symantec Named Leader- The Forrester Wave™: Unstructured Data Security Platforms, Q2 2021
Continuing to provide the best in security
It is with great pleasure that we share that Symantec, as a division of Broadcom, has been recognized as a Leader in The Forrester Wave™: Unstructured Data Security Platforms, Q2 2021. We believe this independent validation acknowledges what many of our customers already know regarding the strength of our current offering and our strategic focus.
Forrester used 26-criterion when making their careful evaluation of vendors in the data protection market; before selecting the eleven most significant companies to be included in The Wave. This broad evaluation considered the technology, scale, strategy and future direction of each vendor, and was informed using customer feedback.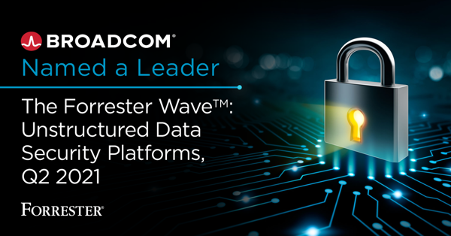 Broadcom's breadth brings a strong platform for enabling Zero Trust network access - The Forrester Wave™: Unstructured Data Security Platforms, Q2 2021
Symantec has long engaged in a mission to protect data everywhere, and this mission remains a high area of focus as we concentrate on supporting customers with their data-centric SASE and Zero Trust needs. Our portfolio provides the solution that our customers can rely on. We know the complexities involved in finding data in different formats, under different regulatory rules and help in multiple locations. Our strength is the accurate discovery of sensitive data across on-premises, cloud and hybrid environments, without being constrained to a particular operating environment or cloud platform. This independence, coupled with a single policy framework, gives customers an operationally efficient and effective way to protect data - even when being accessed by remote, unmanaged devices.
Over the last year we have made significant improvements in our solution with the release of Symantec Data Loss Protection (DLP) 15.8, Mirror Gateway CloudSOC and the simpler packaging of our solution into DLP Core and DLP Cloud bundles.
Being recognized as a Leader is, in our opinion, a reflection of the continued commitment and choice customers make in using Broadcom technology to secure their data. It is also a measure of the dedication and focus of the Broadcom team. To all of you, we say a heartfelt "Thank you".
Symantec Enterprise Blogs
Want to comment on this post?
We encourage you to share your thoughts on your favorite social platform.