Symantec Endpoint Security Named Top Player by Radicati
Latest results once again prove that Symantec technology is the leader in security
The Radicati Group has once again named Symantec, a division of Broadcom (NASDAQ: AVGO), the Top Player in the Radicati Market Quadrant for 2020 for both Endpoint Security and Advanced Threat Protection. It is an honor bestowed upon Symantec for both products for 6 years running. Radicati's approach follows a well-established process and methodology which ensures a consistent level of research across all areas, and their reports are structured in the same manner to understand how trends vary from year to year.
This differentiation is evaluated based on Functionality and Strategic Vision. Both areas that Symantec continues to excel, and is recognized as a leader across the Enterprise security market.
Symantec, now an Enterprise division of Broadcom, continues to invest and innovate in Endpoint Security and Advanced Threat Protection which places them as a Top Player in both market segments for the 6th year in a row. - Radicati
Functionality is assessed based on the breadth and depth of features of each vendor's solution. Symantec excels with their Endpoint solutions in functionality with their offering of Symantec Endpoint Security Complete (SESC):
Protection for all endpoints: laptops, desktops, tablets, mobile devices, and servers
Single agent for attack surface reduction, attack prevention, breach prevention, and Endpoint Detection and Response (EDR)
Flexible deployment: on-premises, cloud managed, and hybrid models
Behavioral Isolation and Application Control capabilities
Targeted Attack Analytics and Threat Hunter combine the best of AI and human experts
Global Intelligence Network (GIN), the largest civilian threat intelligence network in the world, delivers real-time threat information, threat analytics, content classification, and comprehensive threat blocking data
Integration with third-party applications including Microsoft Graph, Open C2, and other Symantec solutions through Symantec ICDx
Strategic Vision, as defined by Radicati, refers to the vendor's strategic direction, which comprises a thorough understanding of customer needs. As a customer-driven company, Broadcom invests $4.7 billion in R&D annually and we couldn't be happier to put that kind of engineering investment muscle to work to continue to stay ahead of threats and the competition, while providing cutting edge solutions to our customers. With focus on both the present and the future, Symantec continues to provide:
Continued focus on reducing complexity for the enterprise with reduced TCO and increased ROI
Simplicity and focus on integrations that begin with our Integrated Cyber Defense Platform
Protections for all phases of the attack lifecycle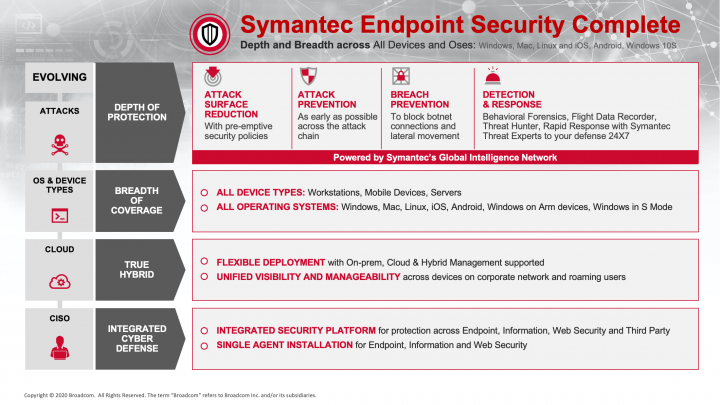 Radicati recognizes excellence and consistency, which is not an easy accomplishment in this environment. Our customers depend on these solutions every day and will continue to count on us into the future to help them stay secure and one step ahead of the bad guys.
Source: Endpoint Security – Market Quadrant 2020, Radicati
Source: Advanced Persistent Threat Protection- Market Quadrant 2020, Radicati
Symantec Enterprise Blogs
Industry Report
Symantec Enterprise Blogs
Industry Report
Symantec Enterprise Blogs
You might also enjoy
Rigorous 3rd party testing helps confirm it
Want to comment on this post?
We encourage you to share your thoughts on your favorite social platform.