Reinventing Partner Go-to-Market Business Models
Innovative go-to-market approach drives healthy business for Broadcom and our partners
As an engineering-first company, Broadcom delivers breakthrough technology innovations to our customers. You might not know, however, that Broadcom also innovates in go-to-market models. In fact, our unique partner go-to-market approach empowers our 35,000 partners to drive and significantly grow their revenue while still delivering highly successful business outcomes for our global customers.
A Different Approach
Today's evolving market trends — e.g., migration from on-prem to subscription-based cloud solutions — and other business conditions are changing the partner economy. Resellers need to reinvent themselves to meet these trends and other new customer needs. The traditional partnering model, where small resellers are primarily engaging with large customers, is no longer the way of the future. Instead, the industry is moving to promote partners where they can add the most value and can differentiate from what the vendors are able to offer. One area where we see consistent opportunity for partners is helping organizations, who have less expertise and can especially benefit from the services only partners are able to provide.
At Broadcom, we take a very focused go-to-market approach. As Hock Tan, our CEO, says, "We do what we do best." Because we focus and don't try to be everything to everyone, we open big opportunities for our partners to step in, fill that gap, and profit from it. Our programs and partner go-to-market business models help partners, reinvent themselves and drive significant revenue. In fact, we consider our partners' success as our success, and, as a result, we have made significant investments in providing more growth opportunities, flexible training, and other resources to help our partners succeed and exceed expectations.
Unlike other vendors, we're not competing with our partners.
We've built a highly focused partner ecosystem that enables us to provide direct support and services to our growing customer base. For example, there are specific countries where we don't have on-the-ground resources or expertise. Instead of building out a go-to-market program or opening a new office in those markets, we leverage local partners, who can not only meet or exceed customers' expectations, but do so more cost-efficiently, which allows us to return those investments to the partners. We collaborate with partners across all segments of our business where we believe a partner brings unique expertise to support the different stages of our customers' journey.
These partners can quickly scale and provide capabilities beyond what Broadcom offers. Unlike other vendors, we're not competing with our partners. Instead, we intentionally look for partners who provide expertise, capabilities and professional services that enable our customers to solve problems within their given market. Since we are looking for these partners to fill a gap, we pay them extremely well. We treat them as an essential piece of our go-to-market strategy. When we choose a strategic partner, we go "all in" to support them and ensure they can execute successfully and drive top line revenue for their own company. I think this approach is a key differentiator for Broadcom – and our partners agree. Our partners at Computacenter said: "We had a successful year but without the Broadcom partnership we would not have been anywhere close to where we ended up."
It is typical for other vendors to partner with companies that overlap with their own capabilities. Broadcom does not take this approach. We want our partners to be accountable for delivering incremental value to our customers as opposed to the same capabilities that Broadcom can deliver. We are committed to driving revenue for every partner in our portfolio because they deliver differentiated offerings and skills.
Empowering our Partners
Two examples of our breakthrough approach to building a highly scalable, close-to-the-customer partner ecosystem are our Global Cybersecurity Aggregator Program (GSAP) and the Expert Advantage Partner Program. Partners in these programs deliver high-value services to customers of all sizes – including our largest enterprise accounts.
For example, the GSAP program brings together Broadcom's Symantec cybersecurity solutions and partners' resources along with their in-country expertise to offer a best-in-class customer experience. We have made significant investments to ensure our distribution partners are well equipped to provide better customer support and a quicker response time to evolving threats.
The Expert Advantage Program has been designed with services-oriented partners in mind. Our program also recognizes partner individuals as Broadcom Software Knights, who continuously invest in enablement to develop their technical capabilities and consistently demonstrate their superior knowledge of Broadcom Software solutions. Through this program, partners deliver high value services to customers of all sizes – including our largest enterprise accounts.
We want our partners to be accountable for delivering incremental value to our customers as opposed to the same capabilities that Broadcom can deliver.
Ciaran Hayes, Symantec Enterprise Technical Solutions Lead EMEA for Arrow Electronics, Broadcom's exclusive Cyber Aggregator in Europe and a member of the elite Broadcom Knights program, recently wrote about the benefits of working "closely with SMB and mid-size channel partners to ensure their customers are getting the most value for their investment in Broadcom solutions." Our distributors want to focus on partners who service SMB and mid-size organizations because it is in that segment that they make the most revenue. The more they sell, the more we pay. We invest in these partners significantly, to drive a healthy business for both of us.
James Palmer, Managing Consultant, Gradian Systems Ltd and a Broadcom Knight, also recently stressed Broadcom partners commitment to helping customers optimize their security investments. "Many companies buy the products but don't always derive optimal value from them. Often, these organizations tell us they don't have the time or skillset to use their latest solution. There's no value in having a product sitting unused in your environment for a year or longer. The Broadcom Knights partner program provides the training, expertise and industry knowledge organizations need to fully leverage their security tools to measurably improve their security posture."
Based on the success of these programs, we are looking to expand their offerings and launch additional programs.
What's Next
The future of Broadcom lives and dies by the success of our partners. As a result, we will continue to invest significantly to ensure the full support of our partners. In turn, they're getting higher margins by participating in our partner programs and are able to build their businesses that align to the market trends that are happening, like the move from on-prem to subscription-based models. Click here to learn more about our partner programs.
Symantec Enterprise Blogs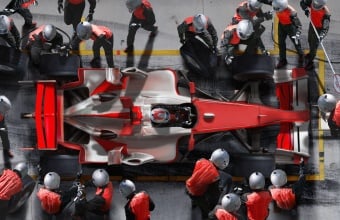 Arrow Electronics and Broadcom, together, enable EMEA channel partners to deliver invaluable security solutions and services against the latest global threats
Symantec Enterprise Blogs
Want to comment on this post?
We encourage you to share your thoughts on your favorite social platform.