Symantec Leads With Growth and Innovation
Our customers are seeing the results
Crisis situations like COVID-19 confront companies with the ultimate pass-fail test. Even enterprises that had been slow to digitally transform their processes scrambled to make sure their cloud infrastructure could securely handle unprecedented security demands as a global pandemic forced businesses to shift, seemingly overnight, to work from home routines.
Theory and practice are getting a real-world vetting as threat actors seek new opportunities to pounce on vulnerabilities. During this historic transition, there is little room for error. That's why I couldn't be prouder of how our team has responded to this most unique challenge.
Not only did we continue to deliver industry-leading network security software to customers, but we accelerated our cloud roadmap and strengthened integrations within the portfolio.
In a nutshell, Symantec crushed this transition and continues to lead the way.
As we finished integrating into Broadcom over the last year, Symantec registered a myriad of operational and business achievements that resulted in a sharper focus and a stepped-up cadence. Not only did we continue to deliver industry-leading network security software to customers, but we accelerated our cloud roadmap and strengthened integrations within the portfolio. Here are some of the highlights:
The Growth Continues
As Broadcom put its full weight behind Symantec, a division of Broadcom (NASDAQ: AVGO), our exclusive concentration on the enterprise allows us to fine-tune our development approach. In practice, that is clearing the way for Symantec to customize its engineering focus to meet the specific needs of our strategic customers. We are on the right track, despite the disruptions caused by the acquisition work and COVID-19.
This success has also been true for Symantec's Secure Web Gateway (SWG). A closer examination of web proxy architecture reveals that its role is more critical today than ever, and that it is in fact the strongest architecture that can provide full protection against today's web-based threats. With continued investment in R&D within Broadcom, SWG continues to be a focus, and we have experienced roughly a 333% increase in our Web Security Service (WSS) Agent connections in a 9-month period, demonstrating our customers also agree on the importance of a cloud-based SWG for the future.
Investing in SASE for the Future
Taken as a whole, these measures are helping our customers weather the COVID storm and prepare for the future once we exit from the pandemic. Given that focus on the future, one of our key areas of focus is on Secure Access Service Edge (SASE) architecture. A cloud-based security architecture that prioritizes data protection over hardware or even company networks. SASE combines networking and security-as-a-service capabilities.
The SASE model is driving our roadmap and organization structure. We have already made a significant investment in consulting and advisory services with Gartner to drive our SASE strategy and our innovation in SWG takes a giant first step toward SASE because it provides:
Cyber-attack prevention and detection:

When browsing risky or uncategorized sites, isolation of the session eliminates the web threat vector
When downloading a file, Advanced Content Analysis implements white lists and black lists; considers file reputation analysis and AV Scanning with multiple engines; and sandboxing

Works with Symantec's Data Loss Prevention (DLP)
Visibility into all web traffic: Monitors and logs transactions; supports cloud apps to ensure compliance and reduce risk
Lower total cost of ownership (TCO) for security: It improves the overall performance and availability of your business apps and media, with bandwidth management, content caching, traffic optimization, and streaming media splitting and caching features
Gartner projects "By 2024, at least 40% of enterprises will have explicit strategies to adopt SASE, up from less than 1% at year-end 2018."* While adoption is gaining momentum, SASE may take half a decade or longer to become the predominant cyber security architecture. Some of the pieces, such as SWG, are more mature than others. The Symantec portfolio of SASE solutions will act in harmony to provide industry-leading architecture that meets or exceeds your security KPIs.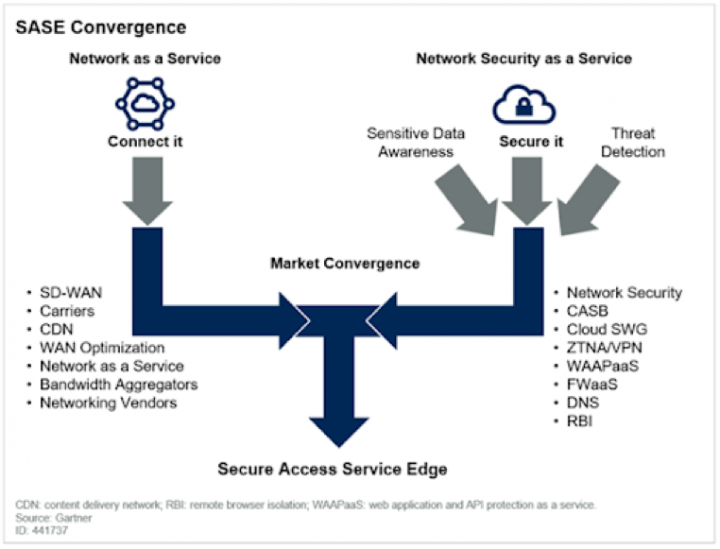 Integrated Cyber Defense
A key area of investment is our Integrated Cyber Defense (ICD) strategy. Integration delivers two key benefits: First, it enables our products to work efficiently together, which drives down cost, saving you money; second, our products talk to one another, increasing the effectiveness of our technologies and accelerating your ability to respond to threats.
Symantec now boasts a formidable assortment of offerings and advanced threat detection components so customers can eliminate blind spots in their network defenses. The collaboration and intelligence sharing we have engineered adds up to a powerful portfolio – Global Intelligence Network (GIN), Secure Web Gateway, Cloud Firewall, Security Analytics, Malware Analysis (sandboxing), Email Security, Web Isolation, Endpoint/Mobile, SSL Visibility, Cloud Access Security Broker, and Secure Access Cloud solutions – that provides customers with an unrivaled umbrella of threat protection.
Innovation
At Symantec, we never stop innovating. One of our largest innovation projects that is currently underway is migrating WSS to the Google Cloud Platform (GCP) for added customer value. It will provide such benefits as:
Elastic scale and improved resilience
Increased focus on cyber security innovation
Quicker deployment of new services
Reduced reliance on congested public internet routes
Increased quantity and scope of infrastructure certifications
Beyond WSS we are also utilizing this innovation to allow one platform for all Symantec cloud services – CASB, Email and other services are all moving to GCP. This allows us to drive cross-product efficiencies, component deduplication and standardization, and reduced latency between integrated services. The speed at which we have been able to execute on this migration has been enabled by our move to Broadcom, with our increased focus and investment on innovation.
Symantec: A Leader in Cyber Security
2020 has been a year of unprecedented change for everyone. At Symantec, security is in our DNA and we remain the most trusted advisor to enterprises when it comes to protecting their networks. Our commitment to you: We will continue to be a leader for the industry in cyber security - now and for the future.
* * *
Gartner does not endorse any vendor, product or service depicted in its research publications, and does not advise technology users to select only those vendors with the highest ratings or other designation. Gartner research publications consist of the opinions of Gartner's research organization and should not be construed as statements of fact. Gartner disclaims all warranties, expressed or implied, with respect to this research, including any warranties of merchantability or fitness for a particular purpose.
*Source: "Hype Cycle for Network Security, 2020", Pete Shoard, June 2020, Gartner
**Source: "The Future of Network Security Is in the Cloud", Neil Macdonald, Lawrence Orans, Joe Skorupa, Aug 2019, Gartner
Symantec Enterprise Blogs
You might also enjoy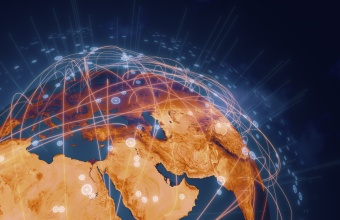 Trust the platform that is not just the buzzword of the day
Symantec Enterprise Blogs
You might also enjoy
Want to comment on this post?
We encourage you to share your thoughts on your favorite social platform.