How to Spot a Twitter Bot
Twitter bots and botnets sparked much discussion in the run-up to the 2016 U.S. presidential election. With the midterm elections rapidly approaching, we ask: What is a Twitter bot? How can you detect what's real and what's not?
What is a social media bot?
Twitter bots are automated user accounts that interact with Twitter using an application programming interface (API). These bots can be programmed to perform tasks normally associated with human interaction, including follow users, favor tweets, direct message (DM) other users and, most importantly, they can tweet content, and retweet anything posted by a specific set of users or featuring a specific hashtag. Many are used to perform important functions, such as tweet about earthquakes in real-time and serve as part of a warning system. In the case of a campaign, however, political or otherwise, they are normally used to generate mass interest in specific content by spreading messages at a rate that isn't possible with human users. A research paper produced by Indiana University in March 2017 found that 15 percent of all Twitter accounts were bots.
A lone Twitter bot won't facilitate the mass distribution of election material, "fake news", or certain ideas. There are entire networks of bots that push content to the public and heavily follow each other to make the accounts appear legitimate. In a study carried out by Pew Research Center in April 2018, it was reported that approximately two-thirds of all tweeted links to popular websites were attributed to bots. A Knight Research Foundation study published in October 2018 identified a core network of heavily connected Twitter accounts that spread fake news links. Due to the high number of followers this core network has stories can spread quickly.
Some bot administrators will employ stealth tactics to conceal the properties of a bot, so it is important to note that some bots may not be bots all of the time. The account may include human interaction, but function as a bot at other times, to appear as a regular human user account.
How do I detect a bot?
Now you know what a bot is, but the bigger question is would you know a bot if you encountered one? Depending on the level of stealth employed by a bot, some are easier to detect than others.
Some typical characteristics of bots on Twitter include:
Many Twitter bots have a relatively recent creation date.
Many bot user names contain numbers, which can indicate automatic name generation.
The account primarily retweets content, rather than tweeting original content.
The account's tweet frequency is higher than a human user could feasibly achieve.
The account may have a high number of followers and also be following a lot of accounts; conversely, some bot accounts are identifiable because they send a lot of tweets but only have a few followers.
Many bots tweet the same content as other users at roughly the same time.
Short replies to other tweets can also indicate automated behavior.
There is often no biography, or indeed a photo, associated with bot Twitter accounts.
Some applications have also been developed to detect bots and are available for public use. They include:
Botometer: an application developed by the Indiana University Network Science Institute (IUNI) and the Center for Complex Networks and Systems Research (CNetS).
Botcheck.me: a Chrome extension developed by two students at the University of California, Berkley. It specifically detects political propaganda bots.
Tweetbotornot: an open-source package for developers created by Michael Kearney, a professor at the Informatics Institute in the University of Missouri.
What is Twitter doing about this?
Twitter is taking steps to clean up the platform and rid it of fake, spammy, and bot accounts. It is taking several steps to do this:
In July 2018, Twitter deleted 70 million accounts it had deemed spammy, inactive, or which were displaying "erratic" behavior that indicated they were likely bots. This purge caused many celebrities and highly followed accounts to lose followers. It also had an effect on Twitter's monthly user counts, with the company revealing in its most recent results in October 2018 that it had dropped 9 million users in the last quarter. Twitter had flagged that a drop could happen as it cleans up its platform, and has further said that its monthly user count could potentially drop again in the next quarter.
Also in 2018, Twitter put a call out to third parties to help develop open-access research and open-source tools to help improve "conversational health" on Twitter.
In October 2018, Twitter also released "all the accounts and related content associated with potential information operations that we have found on our service since 2016." The release included more than 10 million tweets, and more than 2 million images, GIFs, videos, and Periscope broadcasts. Twitter said it released this information as part of "the continuation of our overarching mission to serve the public conversation."
Twitter APIs are now rate limited, and Twitter requires a phone number for every application developed on the platform.
Twitter has also brought in more stringent policies regarding automation on the platform.
Broadcom Software Blogs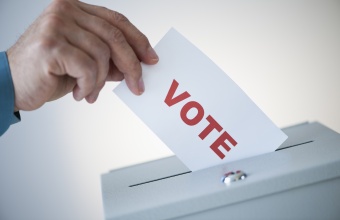 From results tampering, to email breaches, to influence campaigns: Here's a short history of election-related attacks.
Want to comment on this post?
We encourage you to share your thoughts on your favorite social platform.