How to Turn the Tide in Favor of Stronger Election Security
Experts mull myriad proactive measures to improve the security of a unique and complex system
How can we prevent future interference by foreign rivals seeking to game the system? Some see an answer by turning back to a second century discovery.
Paper.
No, that isn't a typo.
Only paper – or, more precisely, a verifiable paper trail – will do, according a blue-ribbon panel of mostly academics and election officials working under the auspices of the National Academies of Sciences, Engineering, and Medicine. Their two-year examination of the nation's election process is the latest chapter in a continuing debate about how elections officials ought to use the tools at their disposal to better preserve our democracy's secret ballot, a public conversation first set off by the "hanging-chads" controversy in the 2000 presidential race.
In that election, George W. Bush won by a margin of .009%, or 537 votes in Florida for its electoral college delegation. For those old enough to remember, the race featured a hand tally of punch cards that called into question whether an incompletely detached "chad," or punch hole, counted or not.
The election turned the spotlight on the nation's outdated polyglot of punch-card, mechanical-lever, and paper balloting systems. It also set in motion a train of events that led to a presidential commission and subsequent legislation which earmarked $3 billion for modernization -- and other federal mandates. One of those mandates required every state to create a central voter registration database. Those databases also served to supply the network-connected e-pollbooks used in many precincts to check-in voters when they arrived at their precinct poll to vote.
Further, the 2002 Help America Vote Act, as it was officially called, made way for the proliferation of electronic devices – touchscreens, computers and dial-pads, among others – to record votes onto a memory card that were used by 2016 in 33% of all U.S. voting precincts.
Meanwhile, a second presidential commission on election systems in 2013, spawned a series of state efforts to make voting more accessible and convenient, including online voter registration, voting centers, and voting by mail. Oregon, Colorado, and Washington have since adopted mail-only voting, while two others, California and Utah, are moving toward mail-only ballots.
Looking ahead, the report noted that elections officials will face increased pressure to provide accuracy, secrecy, and security while at the same time maintaining access and convenience to an electorate that is growing in size and complexity. So, back to the question of how best to maintain the integrity of the process given budgetary and bureaucratic constraints slowing down progress.
Earlier this year, Harvard's Kennedy School released a study which acknowledged the scope of the challenge defending the multifaceted nature of the elections process. It described US elections as among the "most complex and decentralized operations in either the public or private sectors" given the unique conditions found in each state and locality. Yet the authors remained optimistic that a set of proactive actions to cultivate a more security-oriented culture could turn the tide in their favor. (You can find out more specifics by clicking on the report here.)
Technology Seen as Key to Any Solution
Meanwhile, David Becker, who founded the non-profit Center for Election Innovation & Research, says it would be a mistake to think anybody is going to roll back the clock on technology.
"We're not going back to the days of the quill pen and parchment days, with the town crier shouting out the results," he said.
He argues that election systems already use a lot of tech, even if it's a scanner, and will continue to rely on it if only because there are too many voters, too many votes to tabulate, and too much pressure for as-soon-as-the-polls-close counts.
As evidence, he offers his group's Electronic Registration Information Center, aka ERIC, which is used by 24 states to cross-check voter registration with each other to cull their rolls of, for example, people who've moved. ERIC sits on a secure server of the kind used by banks. It's only online during scheduled data transfers, while its data is hashed going in once, then again going out. The system also undergoes multiple security audits.
What's more, committee member Juan Gilbert, who chairs the University of Florida's Computer and Information Science and Engineering Department, says he and his colleagues who collaborated on the Securing the Vote report weren't dismissing the promise of technology in elections. It came down to risk management – for now – and further testing.
"For example, the end-to-end verifiable (E2E-V) approach to voting has some risks, but the committee think it's worth investigating further" he said in an email interview. "Internet voting has significant risks, but it's worth investigating.
"These things need additional research, development and pilot testing before being released for real use in elections."
If you found this information useful, you may also enjoy:
Symantec Enterprise Blogs
You might also enjoy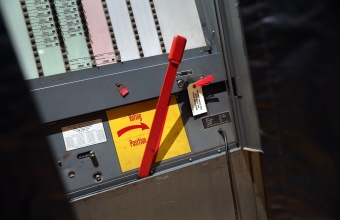 BlackHat presentation uncovers evidence of irregularities in WinVote machines used in Virginia for state, national elections
Want to comment on this post?
We encourage you to share your thoughts on your favorite social platform.